Welcome to Shalgo Farm
We are a small hobby farm in the panhandle of West Virginia specializing in registered ADGA Nigerian Dwarf goats, Silver Appleyard ducks, honey bee products, and handmade crafts. Our goal is to provide you quality dairy goats with good structure. We value each customer and want to make sure you leave happy!
***Farm News***
We have finalized our breeding/kidding schedule for 2023! Reservations for doelings and wethers are now available!
A discount is given for multiple purchases and for 4-H projects!
We are glad that you found us! We invite you to take a look around our site and contact us if you have any questions.
Several years ago, my husband and I bought a small piece of land in West Virginia and decided to start a small hobby farm. We found that you can do a lot with two acres! We started off with chickens and a small garden and our passion for farming grew from there. On our little farm, we grow lots of organic vegetables, raise chickens, keep bees, and in 2017 decided to start working with Nigerian Dwarf goats. We raise our animals to supplement our household with fresh chicken eggs, goat's milk, and bee products. Click here to read more about our story...
All of our animals on our farm are pets and are humanely raised and loved! We pay close attention to keeping our animals healthy and happy; and we use both conventional methods and herbal supplements for maintenance. Our goats are fed are a diet of Chaffhaye and a locally sourced NonGMO goat grain. Our goats also enjoy a free choice NCO mineral, NCO kelp, and baking soda. An occasional ginger snap or animal cracker can make a goat smile!
We test our goats are tested for CAE, CL, and Johne's (to learn more - click here).
*Our Herd tested negative for CAE, CL, and Johne's in October 2022* (we test every other year for CL and Johnes as we are a closed herd)
We regularly post to social media, so don't forget to follow us on Instagram and Facebook!
---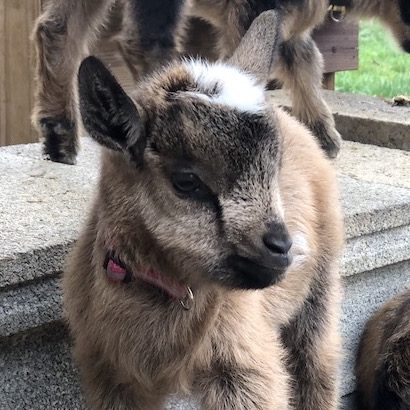 As our does enter their final stage of pregancy, we will turn our live stream cameras back on. As of March 8th, we are live streaming to YouTube. Cameras will be live streaming our doe loafing area and kidding pens after kidding. You can subscribe to our channel on YouTube.
Our video will be turned off at night, during cleaning, and other odd times. Please be patient and we will be back up as soon as we can!